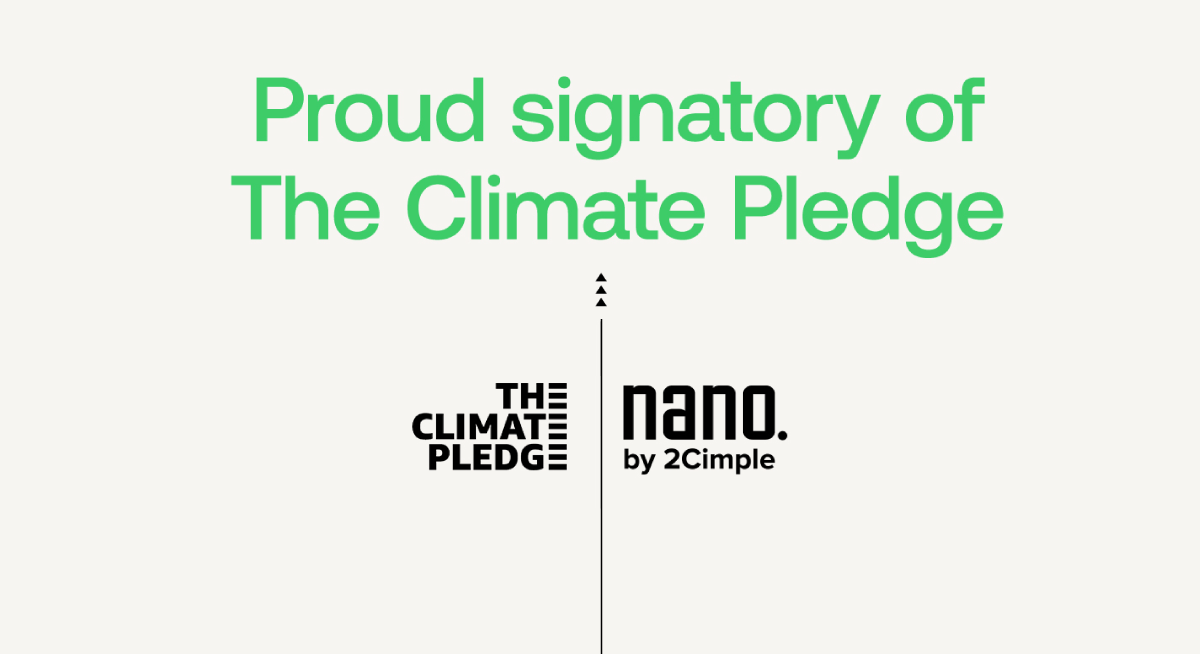 2Cimple, Inc. Signs The Climate Pledge
2Cimple, Inc. commits to reach net-zero carbon emissions by 2040 or sooner
 Dallas – September 18th, 2023— Today, 2Cimple, Inc. announced its commitment to The Climate Pledge. 2Cimple Inc.'s Nano product provides a gamified platform and a Sustainability League for circular economy. The platform engages stakeholders and transparently captures and reports Scope 1-3 CO2 emission and waste reduction / avoidance data. The League's championship impact data (collected via mobile, IoT devices & API), helps companies refine their sustainability strategies and make data-driven decisions to achieve their net-zero goals: resulting in optimized cost in transportation, energy, waste in the supply chain.
2Cimple is committed to reduce its own Scope 1-3 carbon emissions and to achieve net zero carbon emissions by 2040. 2Cimple would like to collaborate with other Climate Pledge Signatories and other partners to achieve its broader goal to engage 1B people in the platform to reduce at least 1B Tons of carbon by 2040.
Co-founded by Amazon and Global Optimism in 2019, The Climate Pledge is a commitment by companies to reach net-zero carbon emissions by 2040—a decade ahead of the Paris Agreement's goal of 2050. 
Signatories to The Climate Pledge agree to:
– Measure and report greenhouse gas emissions on a regular basis.
– Implement decarbonization strategies in line with the Paris Agreement through real business changes and innovations, including efficiency improvements, renewable energy, materials reductions, and other carbon emission elimination strategies.
– Neutralize any remaining emissions with additional, quantifiable, real, permanent, and socially-beneficial offsets to achieve net-zero annual carbon emissions by 2040 — a decade ahead of the Paris Agreement's goal of 2050.

"We created Nano to help reduce our footprint and achieve net-zero as well as help companies re-imagine how they develop strategies to reduce their Scope 3 carbon emissions. What we learned in the development of our platform, is that employees, consumers, customers, and supply chain partners all can play a critical role in this process.
By partnering with The Climate Pledge Signatories and other partners, we believe we can provide an important education and engagement layer to their sustainability initiatives, in pursuit of their Net Zero goals." Syed Abbas, Founder, and CEO, 2Cimple – Nano
The Nano platform includes Nano Tasks to educate and engage players for
 – Transportation decarbonization such as #EV, #Commute, #Carpool, and #Fleet
 – Energy efficiency and optimization such as #PhantomEnergy, and #Solar
 – Waste management such as #Recycling, #TrashPickup and #WaterRefill
About 2Cimple, Inc.
2Cimple is an intelligent content personalization platform and technology studio. Our work includes shoppable video and image, interactive games/sweepstakes, dynamic canvas, and brand engagement technologies. Our most recent Nano platforms includes our gamification, AI, blockchain / Web3, shoppable video and image technologies which transforms and reduces/avoids carbon emissions, in transportation, energy and waste in  sustainability and circular economy. 2Cimple believes innovation is driven by the idea that technology is transformative and integral to all aspects of changing human behavior. For more information visit www.experiencenano.com and www.2cimple.com
About The Climate Pledge
In 2019, Amazon and Global Optimism co-founded The Climate Pledge, a commitment to reach the Paris Agreement 10 years early and be net-zero carbon by 2040. 400+ organizations have now signed The Climate Pledge, sending an important signal that there will be rapid growth in demand for products and services that help reduce carbon emissions. For more information visit www.theclimatepledge.com.